Construction Site Security
A contractor's ability to control theft and vandalism on a construction site can mean the difference between making a profit or suffering a loss. Theft is a constant threat on all construction sites, and the more remote the site, the higher the risk.  More than $1 billion is lost yearly to theft from construction sites.  The Chartered Institute of Building shows that 92% of their respondents report regularly being subjected to theft.  Twenty-one percent revealed that theft occurs on a weekly basis. Loss of valuable equipment can cut into profits on a project.  Additionally, theft creates delays and interruptions in the construction progress.  Construction site security is vital on many sites.
Focal Point Security Provides a Security Solution that is Both a Deterrent and Proactive. 
Our system has an intimidating appearance and we post security signage around the parameter of the construction site.  We use high visibility cameras, live remote monitoring, and audio down announcements to intruders. FPS reducing, and in some cases, eliminating theft and vandalism on construction sites.
When securing a construction site, our main design objective is to protect the assets and areas YOU identify as critical.  That said, the highest level of security is intrusion detection at the perimeter of the site. We utilize technology based systems that may include thermal imaging cameras, IR Day/Night cameras, strobe lights, communications equipment, audio equipment and other technologies depending on the layout of the site and level of security required.  We can add a pan/tilt/zoom camera that provides our remote monitoring agents an overall view of the rest of the site to watch the activity as they engage law enforcement and notify the customer. Audio can also be engaged to communicate with the trespasser.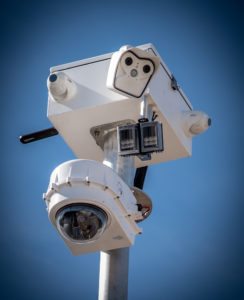 All our cameras, whether thermal, PTZ, or fixed, will directly trigger alarms to our monitoring operators.  They are not first relayed through another system on site. The instantaneous transmission of ultra-high-resolution, live streaming video cuts valuable seconds off our monitoring team's response time.  This results in catching a breach of the area being protected, well before valuable assets are at risk.
The monitoring operators see the site in real time and will intervene based on customer customized instructions on how to handle a security breach, whether that is to utilize audio instructing the intruder to leave the site and/or call police.  Our video surveillance systems have video analytics that yield detailed reports.  These reports provide you with time and date stamped digital video footage of entire events (not just short clips) saved in cloud servers.  FPS provides both customer and police with a full length video of each event.  Our cameras save video for up to 30 days.
We place our pole systems for the best overall coverage to meet the customers unique site needs such as:
The Building Under Construction
Office Trailers and Storage Boxes
Entrance Gates
Site Perimeter 
Heavy Machinery (line ups)
Materials (laydown yards)
Bodies of Water (ponds/pools)