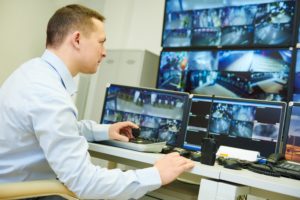 Our live remote security and response monitoring center meets or exceeds all Underwriters Laboratories (UL) standards for safety and quality by using redundant alarm signal processing servers.  This means they have multiple technological devices covering and receiving calls. Redundancy ensures that despite weather, technological failure, or power outages, your construction site will still be protected. Additionally, our monitoring center has dual backup power generators.  And the command center is equipped with state-of-the-art video and two-way audio technology.
The virtual guards (operators, agents) respond to alarm-based events.  Video signals are received remotely over the internet from equipment installed on your site.  Live remote security 'guards' see your facility in real time and will intervene based on your customized instructions on how to handle a security breach, whether that is to engage in two-way communication instructing the intruder to leave the site and/or call police.  Additionally, virtual guards can make video tours of your site on a regular schedule to provide visual security check for suspicious behavior.
Our multi-skilled 'guards' are closely supervised and specially trained to respond to emergencies.  Staffed 24/7/365 , the monitoring center provides local police, fire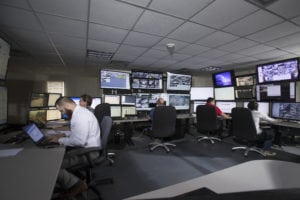 departments and emergency personnel with an all inclusive database of vital information important to the individual needs of the customer.  Nothing gets missed on your site.  
Video systems are equipped with surveillance technology that proactively looks for irregularities and visual clues to alert monitoring stations. This constant and consistent stream of proactive alerts keeps remote security prepared to take immediate action. Simply put, they're not waiting for something to happen; they're continuously analyzing and reacting.  Additionally, like air traffic controllers, the agents are required to take frequent breaks to keep them alert in the middle of the day or night.  This further prevents them from falling asleep on the job.  So you can rest assured, our operators are standing by to alert the proper authorities so that you don't loose sleep worrying about your construction site.