There are occasions in which temporary video security is required.  It is important to choose an experienced security company that has the right equipment for the job at hand.  Focal Point Security uses a unique system designed for security issues in a wide range of industries. We pride ourselves in listening to ​our customers and providing custom security based on ​your needs, wants and budget.  Our goal is to make site security the least of your worries during your project.  We know you have a lot on your plate and security shouldn't have to be one of your headaches.  If you need temporary Mobile Video Surveillance, we are confident you'll find our service superior to anything you've used in the past. 
Our Temporary Mobile Video Surveillance has a wide range of applications:
Security on Construction Sites:  Theft is a constant threat on all construction sites, and the more remote the site, the higher the risk.  Loss of valuable equipment can make it challenging to make sufficient profits on a project.  Additionally,  theft creates delays and interruptions in the construction progress resulting in lost profits.
Body of Water Security: public parks, hotels, apartment complexes, neighborhood community golf courses, and lakes and even some construction sites, all have large areas of water where the public has often unimpeded access.  These places are vulnerable to drownings as they most often do not have active lifeguards on duty.
Critical infrastructure including private utility companies, state and local utilities, railways and water/wastewater systems are vulnerable to vandalism and potential terrorist attack.  Although may have large permanent security video, intrusion and access control systems in  main offices and other brick & mortar locations, they may also have remote locations and substations that are often under secured due in part to the lack of power and internet access in those locations. 
Our Remote Services include: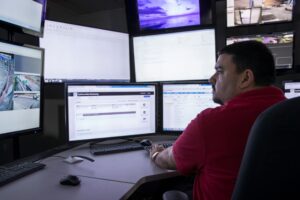 Remote video event and response verification 24/7
Video monitored openings and closings
Video "guard patrols"
Remote video escort
Site Audit monitoring